Pastor Joey Kays
Pastor Joey Kays, a lifelong resident of Richmond, Kentucky, is a 1983 graduate of Madison Central High School and a 1988 graduate of Eastern Kentucky University, where he received a Bachelor of Arts degree in History. Joey served as a teacher in the Madison County School District and successfully owned and ran an Allstate Insurance Agency for 10 years. In 2004 Joey received a Master of Divinity degree from The Southern Baptist Theological Seminary in Louisville, Kentucky. He was called as pastor of the Emmanuel Baptist Church in Berea, Kentucky, in March 2002, where he has served faithfully for 21 years.
Joey was privileged as a child to attend the Calvary Baptist Church in Richmond, where he was saved and baptized at age 16 under the preaching of his grandfather, Raymond B. Kays, who pastored the church for 43 years. He is thankful for the faithfulness of his family, Sunday School teachers, pastors and godly mentors who encouraged him in his spiritual life and taught him to love the Word of God.
Joey is married to Alexis Parks Kays, a lifelong resident of Richmond and a retired educator in the Madison County School System. They have two adult sons and their wives, Jordan & Kristy Kays and Cory & Emily Kays. They also have five grandchildren: Lincoln, Asher, Levi, Reagan and Abigail.
EBC Deacons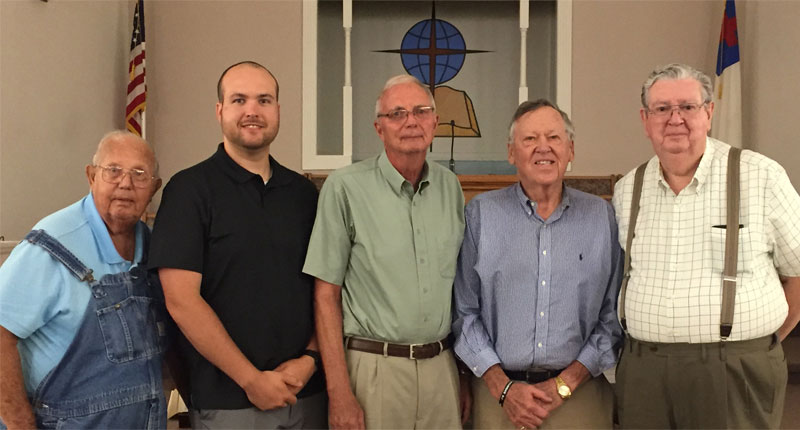 Pictured from left to right (Boyd Adams, Justin Dargavell, Dennis Grant, Joe Kays and Bill Cope)
Emmanuel Baptist Church History